Internat'l Conference on Industrial Biotechnology & Bioprocessing (aac) A
February 17 @ 8:00 am

-

February 18 @ 5:00 pm

$1,449.00 - $2,699.00
3rd International Conference on Industrial Biotechnology and Bioprocessing
Theme
Reconnoitring newest Novelties and expertise in Industrial Biotechnology
After a huge success and blockbuster accomplishment of the "2nd International Conference on Industrial Biotechnology and Bioprocessing" on June 12-13, 2019 at Edinburgh, Scotland. We at the AAC group proudly announce the "3rd International Conference on Biotechnology and Bioprocessing" during the month of February 17-18, 2020
We would like to honour and appreciate the Industrial Biotechnology 2019's Keynote speakers, session speakers, session organizers, chairs of the session and all the attendees without whom the efficacious achievement of the event was not possible.
Through a series of plenary sessions, workshops and breakout sessions, Industrial Biotechnology 2020 will provide a rigorous review of novel therapies, bio-products as well as report on the very latest findings in industrial biotechnology and bioprocessing research.
AAC group extends a very warm welcome to the eminent speakers, biotechnologists, researchers, and all the symposiast around the world to join our forthcoming 3rd International Conference on Industrial Biotechnology and Bioprocessing on Feb 17-18, 2020 at Paris, France. We would love to see you and learn more about your specialization and to explore more on "Reconnoitring newest Novelties and expertise in Industrial Biotechnology".
Conference Highlights
Industrial Biotechnology
Bioprocessing and Bioseparation
Cell and enzyme engineering
Bio-based products
Biocatalysis and biotransformation
Biomaterials
Bioenergy and Biorenewables
Bioreactor design and scale-up
Bioplastics and Biopolymers
Synthetic Biology
Regenerative Medicine and Tissue Engineering
Agri-food technology
Marine biotechnology
Cell therapy bioprocessing
Algal Technologies
Bioremediation and Waste Treatment
New IB tools & technologies
Bioeconomy and Circular economy
Sessions/Tracks
Session on: Industrial Biotechnology
Industrial Biotechnology which is also known as "White biotechnology" is one of the most favorable processes/method to control most of the serious issues of modern industry. Enzymes and micro-organisms are used to make products that are bio-based in sectors like chemicals, food and feed, detergents, paper and pulp, textiles and bioenergy. This session will include the recent advances and research which enables to use renewable raw materials and can contribute to lowering greenhouse gas emissions and stirring away from a petrochemical-based economy.
Session on: Bioprocessing and Bioseparation
Bioprocessing is used as a very essential tool for the rapid conversion of bioproducts from the research laboratory to commercial products. And the aim of practicing bioseparation is to cleanse molecules, cells, and parts of cells into purified fractions. This can be used to explore and to enhance the speed in discovery of bioprocesses application for the manufacture at scale of next-generation commodity of industrial biotechnology. This session will focus on latest innovations and new techniques that will lead to biomanufacturing industries for a better circular bioeconomy
Session on: Cell and Enzyme engineering
The application of genetic engineering techniques to enzyme technology is the most exciting innovation over the last few years. The yield and kinetics of the enzyme, the ease of downstream processing and various safety aspects may be improved or altered to make enzyme more efficient. It will help to determine the specific product and pathways for reactions to occur and to convert from some certain compounds into biotransformation..
Session on: Bio-based products
Bioproducts or bio-based products are products made with some constituent of biological or renewable materials. It involves all the processes, starting from the raw material production through the processing stages to the synthesis of end products, in addition to research, development and commercialization processes. The developing bioeconomy offers the potential to contribute significantly to the overall economies across world. In addition, bio-based products research & development can offer economic, environmental and health benefits.
Session on: Biocatalysis and biotransformation
Biocatalysis can be explained as the use of natural products like one or more enzymes or cells to speed up (or catalyse) chemical reactions. By switching to biocatalysis as the main technology for chemical production, it will lead to green, reduces pollution and cost, and help towards bioeconomy. Biocatalysis will help in increasing the ability to use enzymes to catalyse chemical reactions in industrial biotechnology.
Session on: Biomaterials
Biomaterials play an important role in medicine industry today mainly in restoring function and facilitating wound healing for people after injury or disease. The recent advances of biomaterials combine medicine, biology, physics, and chemistry, and more recent fields are from tissue engineering and materials science. Biomaterials found their application in various fields like in dental applications, surgery, and drug delivery.
Session on: Bioenergy and Biorenewables
Bioenergy and Biorenewables offers a solution for the production of renewable energy from biodegradable sources, such as wastes from municipal, food, agricultural and biomass. Report says that bioenergy constitutes the majority (65%) of the EU's renewable energy mix. The use of biomass energy can minimize our greenhouse gas emissions it's feed stocks can also help in making profits for the agricultural industry
Session on: Bioreactor design and scale-up
Bioreactor designing plays vital role in the functioning of bioprocess mainly for upstream processing. Design and choice of the proper bioreactors are influenced by the nature of cells, engineering conditions, as well as economic and ethical considerations. To commercialize the product from laboratory scale to industrial scale, scaling up of the bioreactor is very important. The success of the process hinges, to a limit, on ensuring the designing aspects in bioreactor and the operational procedures.
Session on: Bioplastics and Biopolymers
Plastic is very commonly used petroleum derivative in the world and report says that each year 200 million tons of plastic are utilized/consumed by the living beings on Earth. As a substitute the use of bioplastics is being encouraged, which is 100% biodegradable, equally flexible to plastics, and the usage of biopolymers are already becoming famous in cities of Europe and the United States for ecological reasons.Poly-hydroxy alkonates.
Session on: Synthetic Biology
The objective of synthetic biology is to make biology convenient to engineer. Synthetic biology is the mixture of innovations in biology and computer science that validate us to go from idea to product faster, cheaper, and with greater precision than ever before. It has application in areas as diverse as industrial biotechnology, health, agro-industries and conserving ecosystems.
Session on: Regenerative Medicine and Tissue Engineering
Here by regenerative medicines we mean the bioprocess engineering area of stem cell tissue engineering including scale-up and scale-down. In "whole bioprocessing" aspect, the complete process starting from donor or patient biopsy all the way through to clinical insertion into the patient. Regenerative medicine and tissue engineering are one of the fastest growing area of research in industrial biotechnology.
Session on: Agri-food technology
The agri-food industry has a significant role to play in industrial biotechnology, the motive of which is to feed populations, mostly through a chain of market relationships. The food system within the agri-food industry varies by country. Techniques like genetic engineering, molecular markers, molecular diagnostics, vaccines, and tissue culture, is utilized by agricultural science to alter the genes in living organisms including plants, animals, and microorganisms.
Session on: Marine biotechnology
Marine Biotechnology or blue economy is securing industrial products and processes by synthesizing proteins and enzymes and can also support new process innovation in the pharmaceutical and food industries or in molecular biology and diagnostic kits. The new applications of marine derived enzymes are found to be in the beauty industry and use of algae and micro algae in biofuel production.
Session on: Cell therapy bioprocessing
Cell therapy bioprocessing activity is to make the research experts to empower the safe, clinical useful and affordable production of cell therapies into commercial end products to be delivered to the patients. Current research is towards manufacturing new cell and bioprocess engineering tools to enhance the efficiency and techniques for health technology assessment to support rapid clinical adoption of new cell therapies.
Session on: Algal Technologies
Algae are the 'green gold' of the future bioeconomy as they became a valuable and sustainable feed stock for numerous industries contributing to the bio-sustainability. Their application varies from biofuels, food additives, animal feed, novel food, bioplastics, cosmetics, biofertilizers or CO2 utilization and many more. The market is rapidly expanding, and it is still not reached its full potential. Scientists are working on new technologies and cost optimization to scale up pilot projects to industrial production for a better green and clean future.
Session on: Bioremediation and Waste Treatment
A treatment management system that uses natural organisms to remove or neutralize pollutants and covert into less toxic or non-toxic substances. For a successful and effective bioremediation, the system needs a correct balance of the favorable temperature and nutrient content. It is a cost-effective method when compared to other clean up techniques, as it does not need a great deal of equipment or labour.
Session on: New IB tools & technologies
One of the most prominent sectors in industrial world is "biotechnology". Today, the focus is to improve efficacy and robustness of microbial cell factories, suitable for industrial production of products in health industry and others. Strain engineering is to be done to improve the existing either by mutagenesis or advanced targeted methods. If industrial biotechnology is used to its full potential, it would be the best tool towards a sustainable bioeconomy.
Session on: Bioeconomy and Circular economy
A circular economy focuses to redefine growth, aiming on positive public benefits. It avails gradually decoupling economic activity from the consumption of finite resources and designing waste out of the system. Bioeconomy is understanding mechanisms and processes at the genetic and molecular levels and applying this understanding towards the global sustainability.
AGENDA
Please see picture below
Organizing Committee
John Kaweske
President
Bio Clean Energy
Denver, USA
Jennifer A Littlechild
University of Exeter
Exeter, United Kingdom
Dr.Sergey Suchkov
Director, Center for Personalized Medicine and Professor,, Department of Pathology, Sechenov University,
Russian Academy of Sciences, Saratov
Moscow, Russia
Ashley Jackson
IBioIC – Industrial Biotechnology Innovation Centre
Glasgow, United Kingdom
Ani Idris
Professor
Universiti Teknologi Malaysia
Kualalumpur, Malaysia
DR. Mohd Rafie Bin Johan
Nanotechnology & Catalysis Research Centre (NANOCAT), University Malaya
Kualalumpur, Malaysia
Dr. Dênis Pires de Lima
Federal University of Mato Grosso do Sul (UFMS)
Belo Horizonte, Brazil
Dr. Niranjan Koirala PhD.
PDF., Research Scientist University of Macau, Macau, Department of Civil and Environmental Engineering, Faculty of Science and Technology
University of Macau
Gungzhou, China
Dr. Farizul Hafiz Kasim
Dean of School of Bioprocess Engineering
Universiti Malaysia Perlis (UniMAP)
Kualalumpur, Malaysia
Professor Michael C. Flickinger
Dept. of Chemical & Biomolecular Engineering, North Carolina State University, Raleigh, North Carolina 27695, USA
North Carolina State University, USA
Raleigh, USA
Abbas Safarnejad
Associate Professor
Khorasan Razavi Agricultural and Natural Resources Research Center
Babol, Iran
"Please contact the event manager Marilyn (marilyn.b.turner@nyeventslist.com ) below for:
– Multiple participant discounts
– Price quotations or visa invitation letters
– Payment by alternate channels (PayPal, check, Western Union, wire transfers etc)
– Event sponsorships
NO REFUNDS ALLOWED ON REGISTRATIONS
Service fees included in this listing.
—————————————————————–
Allied Academies – New York Events List
http://www.BostonEventsList.com
http://www.SFBayEventsList.com
—————————————————————–
MYL191030CEV"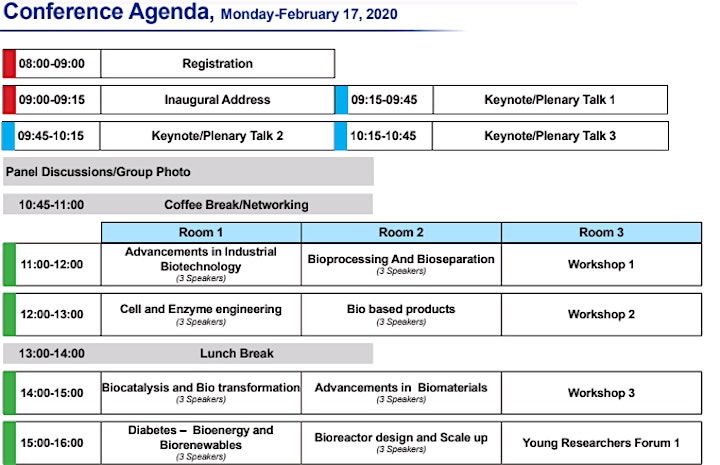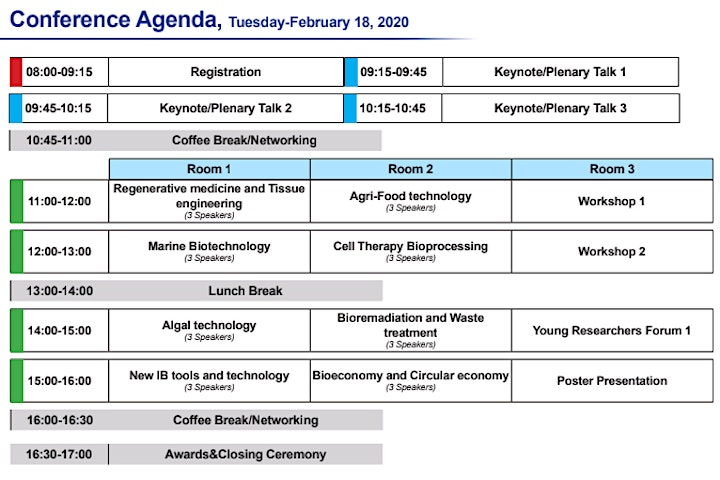 Related Events